3 Ideas for an Easy Valentine's Day with the Family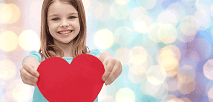 Valentine's Day and restaurants seem to go hand-in-hand. The idea of sharing a meal out with that special someone has long been a favorite way to spend this love-filled holiday. That doesn't mean you can't start some new traditions, especially when you have kids. As a partner of the Together Counts™ program for healthy, active living, we recommend getting creative and celebrating a healthy Valentine's Day with food, fun and those special people in your life. Ideas like these can help you get started:
Eat Out Without the Crowd – It's true that Valentine's Day is a popular occasion to eat out, and that can mean crowds and long waits. To avoid the crowds, take the family out a day or two before, try a late breakfast or mid-afternoon meal or opt for more casual restaurants that may not be the first pick for more romantic meals. Search for restaurants near you that serve Healthy Dining and Kids LiveWell menu choices you can enjoy with ease.
Take It Outside – Get some healthy snacks together and head out to enjoy Valentine's Day with your loved ones. If the weather is nice, try a hike or visit to your local park to play. If the weather isn't so nice in your neck of the woods, opt for an indoor activity like skating, bowling, rock climbing or a trampoline park.
Make It An (Easy) Event – Chances are if you have kids, you know other couples with kids. Get the families together for a Valentine's Day-themed potluck (ordering in from a local restaurant is an even easier option!). Everyone gets the chance to relax in good company with a good meal.
Make it Family Affair – For a smaller celebration, especially when the weather is less-than-friendly, make a meal together as a family for Valentine's Day. Decide on the meal together or invite everyone to pick a recipe (appetizer, entrée, side, etc.). Don't let Valentine's Day get lost in the shuffle of paper hearts, greeting cards and crowds. Share the time and good, good food with people you love to make the most of it.
What traditions have you and your family started for Valentine's Day? What's your favorite food to enjoy for this love-filled holiday?
Healthy Dining Finder was born out of a passion to find menu choices with vibrant fruits and vegetables, hearty whole grains and flavorful lean proteins at every restaurant. Healthy Dining Finder believes that now is the time for every American to rediscover how to truly treat themselves well with all the best food, finding the health and vitality that comes from enjoying tantalizing culinary creations found at Healthy Dining restaurants nationwide.
For more healthy ways to mix up your meals, check out these other articles from Together Counts!