3 Ways to Get Your Family Cooking for Life in 2017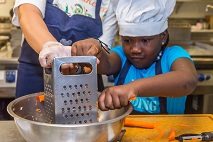 Every January, millions of Americans resolve to ring in the New Year with healthier, more active lifestyles. Making healthy habits a daily ritual can be difficult, especially without a dedicated support system. Common Threads, a partner of Together Counts and the Healthy Weight Commitment Foundation, provides hands-on healthy cooking and nutrition programs for kids, parents and teachers throughout the country, providing a common language around wellness and fostering environments jam packed with healthy influences.
This January, Common Threads is kicking off a happy, healthy 2017 by celebrating its second annual Cooking for Life Month! Cooking for Life Month calls attention to the importance of equipping our country's children and families with nutrition knowledge and practical cooking skills. Eating more nutritious home-cooked meals not only promotes a healthier lifestyle, but also allows families to share the fun of new culinary experiences, while creating cherished memories with one another. Here are three simple ways to get your whole family cooking for life.
1. Get Everyone Involved in Family Dinner – Getting the whole family to eat a meal together can seem impossible, but spending time as a family allows parents to have meaningful conversations with their kids about their days at school and build deeper connections. To get the kids excited about sitting down for family meals, engage them in the process. Bring them along for food shopping, let them pick the menu or, best of all, have them gets their hands dirty in the kitchen cooking with you!
2. Learn a New Healthy Recipe Every Week – Instead of trying to overhaul your diet and food shopping plan completely, take an easy first step: Commit to making one healthy meal every week. Our Cooking for Life Handbook has eight full weeks of nutritious, budget-friendly meals like Sweet Potato Black Bean Empanadas, Mediterranean Roasted Eggplant and Garbanzo Red Pepper Salad that will spice up the weekly menu and introduce the kids to new ingredients.
3. Cook Your Way Around the World – This fun challenge will get the whole family involved in learning about different cultures and types of cuisine. We know it works because Common Threads students around the country do this together each week – you can too. Let each family member pick a different country and see which exotic new dish becomes a family favorite. If you need inspiration, our online resource, Common Bytes, hosts a growing library of more than 100 healthy recipes. Start by celebrating your family heritage with signature dishes from your home country. You may end up creating a new secret family recipe that you'll pass down for generations!
About Common Threads
Founded by Chef Art Smith, artist Jesus Salgueiro and Linda Novick O'Keefe in 2003, Common Threads educates children on the importance of nutrition and physical wellbeing, empowering them to be change agents in their families, schools and communities across the country. By providing children with a toolkit of knowledge and skills, Common Threads' programs help prevent childhood obesity and reverse the trend of generations of non-cookers, getting America's kids cooking for life!
For more healthy ideas to kick off your healthy, active 2017, take a look at these other articles from Together Counts!