3 Ways to Train for Your Turkey Trot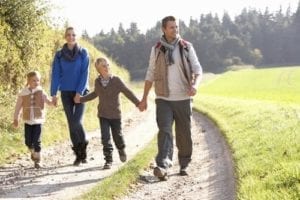 Are you and your family looking for a fun way to get in some last-minute exercise before gobbling down your Thanksgiving feast? Sign up for your local community's turkey trot. Most races are a 5K and you can walk or run depending on your pace. This also makes for a great family photo if you are so inclined to dress the kiddos up as turkeys for the race.
Starting small is the best way to train for your upcoming turkey trot. Go for an evening walk on your local trail with your family after dinner. Depending on your pace, walking for about 30 minutes in the evening a few days a week is a fantastic way to prepare. In addition to providing your family with extra exercise, this will also tire the kids out and ensure they will have a nice night sleep. By the time Thanksgiving rolls around, you and the whole family will be ready to participate in the community turkey trot at whatever pace you feel most comfortable.
For additional tips on living a healthy and active lifestyle this holiday season, visit the Together Counts™ blog and follow the Together Counts program on Facebook and Twitter.