5 Ideas to Get Kids to Eat Healthy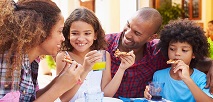 Are kids your toughest mealtime critics? As a partner of the Together Counts™ program for healthy, active living, we understand that getting kids to eat healthy without a battle is often a top priority for parents. When eating out, look for healthy kids' menu choices like grilled chicken strips and shrimp, sweet sides of fruit, dipping veggies and low-fat milk and yogurt. Kids LiveWell menu choices can help take the guesswork out of making the best choice.
At home, try these ideas from Fruits and Veggies More Matters to get kids to eat healthy while they love every bit of it:
Next time you go out to eat, tempt your kids to eat healthy with Kids LiveWell choices like these (and don't forget a tasty Healthy Dining choice for you!).
Healthy Dining's signature web and mobile site, HealthyDiningFinder.com, is the only search engine of its kind providing personalized dining out recommendations validated by Healthy Dining's team of registered dietitians. HealthyDiningFinder.com features more than 4,000 menu choices from participating restaurants nationwide enabling diet- and nutrition- conscious consumers to find nutrition information and Healthy Dining options emphasizing lean protein, fruits, vegetables, whole grains and unsaturated fats. HealthyDiningFinder.com also features a Kids LiveWell platform, a program developed by the National Restaurant Association, to help parents find restaurants offering healthier meals for children. With 25 years of expertise in the restaurant industry and hundreds of thousands of restaurant recipes analyzed for nutrient content, Healthy Dining is the most experienced restaurant nutrition services provider in the world.
For more healthy dining options take a look at these other articles from Together Counts!