5 Must Have Foods for Nutrition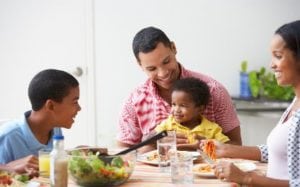 If your goal is to entice your family to eat healthier at home and dining out, these five foods are a must for your menu. With a variety of recipes to tempt even the pickiest eaters, these foods are sure to become family favorites while they boost everyone's energy and health.
Fish – This guy can keep hearts and brains going strong with plenty of omega 3 fatty acids. Try varieties like Mahi Mahi, Trout, Salmon and Tilapia in everything from baked and broiled entrées to tacos, and pastas, to fresh appetizers at restaurants. Try this kid-tested Roasted Fish and Crispy Slaw Wrap recipe for your next family lunch or dinner.
Grains – Have you gotten to know this hearty and down to earth food in your family? With a wealth of B vitamins, iron and fiber, he makes a perfect addition to breakfast cereals and breads, pastas and tortillas, and even simple grain salads tossed with your favorite salad toppings and a bit of oil and vinegar. Try recipes at home like this Millet-Cauliflower "Mashed Potatoes" side dish from the Whole Grains Council.
Fruits and Veggies – What can we say about these diet superheros? They keep on serving up vitamins, minerals, fiber and antioxidants galore (we'd be here for days listing all the benefits) even though veggies sometimes may be underappreciated. Once you spend a little time getting to know the incredible variety of flavors and textures they offer and experiment with cooking techniques, we just know you and your family will look for more ways to add them to your meals. Make fruits and veggies part of every meal, from a berry parfait for breakfast to a mixed greens salad or veggie wrap at lunch to your favorite roasted veggies with dinner and sweet fruits for dessert. Find more tips and ideas for adding them to your family meals here.
Nuts– Some of the very best things come in small packages, and nuts are no exception! They are little protein power houses with healthy unsaturated fats. Find the varieties that work best for your family and add them to morning oatmeal, salads, meats, veggies and even snack bags on their own. Do remember that less is more. Too many nuts can add a lot of extra calories to your meals.
Herbs and Spices – These guys add depth, interest and even a little spice to your dishes, depending on what you and your family are craving. More and more research is also suggesting they may be one of your biggest allies in the kitchen, thanks to a wealth of antioxidants and full flavors that may put your salt shaker out of a job. Cinnamon, Basil, Paprika, Rosemary and so many more can be found in almost every dish on the restaurant menu and come in handy in your kitchen pantry! The sky's the limit, so have fun with these ingredients.
Get started boosting your family's nutrition and health with these healthy foods at home and dining out. Look for these ingredients in the variety of Healthy Dining and Kids LiveWell menu choices like these served at restaurants nationwide.