5 Ways to Make Weight Loss Part of the Back to School Routine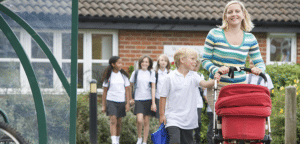 Summer is fading as back to school gears up, making this a great opportunity to include weight loss as part of the back to school routine.
It can be a busy time of year, but with a more regular schedule than often found during the non-routine (for some) summer days, reaching your health goals may be even easier when you make that goal of weight loss part of the back to school routine. Successful weight loss is all about making better choices every day, and here are 5 ways to do just that in between juggling kids, work, activities and more:
1. Plan ahead – Make healthy breakfasts and lunches the night before to avoid the morning rush. The whole family will benefit from having the best choices on hand, and you'll be less likely to make last minute, unhealthy choices when hunger hits. Don't forget to enlist help in the kitchen to spend some time together and help get everyone on board with healthy habits!
2. Break up homework and chores – In the evening, make activity a fun break from the stack of homework and list of chores. Set a timer and alternate between 30 minutes of homework and chores and 15 minutes of tag, dancing, and other family favorites! Not only is this a great way to keep sitting to a minimum, it can also help get the blood pumping and keep energy (and brainpower) high.
3. Make the most of downtime – To make weight loss part of the back to school routine, make the most of the extra minutes during the day. Take a walk around the block on your work breaks, when you're waiting for the final school bell to ring or during the kids' soccer practice. Any extra calories burned throughout the day are a weight loss win.
4. Add new foods to the routine – As you get back to the school routine, start adding in fresh new foods. Fruits, vegetables, whole grains, even new kinds of fish can soon become family favorites. Take turns finding new foods and recipes to try.
5. Have weight loss tools on hand – If you haven't already, bookmark the sites and download the apps that will make weight loss routine for you. From calendar and reminder apps to tracking software and search sites like HealthyDiningFinder.com, such resources can streamline your routine.
How do you make weight loss part of the back to school routine? Find this and more dietitian-recommended choices for the whole family on HealthyDiningFinder.com