Behind the Scenes of the Holidays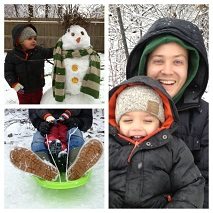 There was a time, long before getting married and having children, when this time of year was magical. The chill wind that arrived in the air was an advance notice of family time, thankfulness and gift giving with those I loved.
Then I became an adult, and I realized none of that magic happened on its own.
Now in the role of magic-maker, my children especially depend on me to keep it all together, so they can sit back and enjoy the holidays, like children are supposed to do.
My wife and I usually trade off project management of the holidays. She handles most of the gift buying and cooking, while I make the travel arrangements and do the family-hand holding that comes with multiple family units in multiple locations.
It's easy for us to focus only on what I'll call the "backend" of the holidays, but Thanksgiving, Christmas, and all of the other holidays around this time of year were designed to bring us together to enjoy each other's company. So my wife and I have come up with a few Gardner family strategies to keep us grounded.
The most important is a strong focus on traditions – they give us all something to look forward to every year as the thing we all do. One of my favorite examples is how we always watch "It's a Wonderful Life" on Christmas Eve while having a delicious dessert. (Do we always stay awake for the whole thing? Of course not.)
Another important focus is on togetherness. We cook together; we decorate the house together; we put up the tree together. This make some of our projects more interesting, considering our children are both under five years old, but the strong focus on being together helps everyone feel a part of the process.
To me, this is what Together CountsTM is all about: finding ways to be together and have fun despite the demands of everyday life. If we focus on being happy, healthy, and most importantly…together with the ones we love, it doesn't matter how chaotic life gets—whether it's the holiday season or any other time of year.
How do you handle the holidays together? Is it as chaotic for you as it is for us?
For more ideas on how to celebrate family moments during the holidays, check out these Together Counts' resources:
By day, Caleb Gardner is a social media director, but the opinions here are exclusive to him. He's also a husband and father, and moonlights as a musician, writer at The Exceptional Man, and photographer.