Campbell Healthy Communities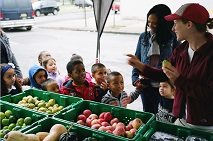 In the four years since the Campbell Soup Company has launched its Campbell Healthy Communities program in Camden, New Jersey, the program has racked up some impressive statistics.
Approximately 30% of all corner stores, the places where most Camden residents do their grocery shopping, are enrolled in the Healthy Corner Store Network, a group that supports efforts to increase the sale of healthy, affordable food in underserved communities and enables residents to buy fresh produce and receive nutrition education lessons.
Local children have had access to 515,000 hours of physical activity.
Prenatal mothers, school children and families have had access to 216,000 hours of nutrition education.
But for Bryan Morton, the president of North Camden Little League Baseball and a lifelong Camden resident, the results of the program extend far beyond the facts and figures. The community is growing stronger, in every sense of the word.
"In Camden City, people were told not to come out after hours. Now we have people coming out at 5:30-6:00 at night," he said, "Now imagine, the most dangerous city in America has outdoor yoga. How peaceful is that?"
The Campbell Healthy Communities program has four key components: food access, physical activity/access, nutrition education and public will.
Food access is a difficult problem to solve in Camden. In a city of 77,000 people, there is just one full service grocery store. Most residents do their shopping at small corner markets, so Campbell teamed up with The Food Trust to encourage market owners to join the Healthy Corner Store Network. Market owners are given $100 as incentive to join, from there they receive training on how best to procure and store fresh produce.
The corner markets are also home to some of the nutrition education programs. At cooking demos, participants pick up healthy cooking tips and also receive coupons redeemable for heart healthy food items. Kim Fortunato, the director of Campbell Healthy Communities, said that for many families the coupon is the only way they can afford wheat bread.
Other education programs take place at schools and doctor's offices. There are community gardens at each site and schools have access to a nutrition curriculum that meets New Jersey educational standards.
"This initiative is important because it builds healthy futures for our young people," Dana Redd, mayor of Camden said.
Physical activity is an integral part of that healthy future. More than half a million hours of physical education have been provided through Campbell Healthy Communities. One program in particular, Soccer for Success, part of an initiative with the U.S. Soccer Foundation, has been remarkably effective. It has given more than almost 700 Camden children a safe place to play outside after school and helped to decrease obesity rates for children who participated by an impressive 10 percent.
The fourth and final component, public will, is the most important, Kim said. "This isn't about corporate America telling people what to do, it's about co-creating solutions to complex social issues," she said.
Bryan agrees: "When the community can see that someone has their best interest at heart, then they're able and willing to move behind what you're asking."
Want to read more about what other organizations are doing in their community? Take a look at these other inspiring posts from Together Counts!