Family Travel Creates Lifelong Memories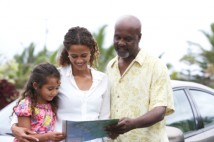 While playing Stack the States  on my iPad, my 11-year old daughter turned to me and said, "Daddy, I just realized that I've been to 12 states."
"That's cool, sweetheart," I said. "But you still need to visit 22 more to catch up with Daddy."
"Don't worry," she said confidently. "I plan to get to all 50."
I certainly hope she does.
Travel is an important part of personal development, and it helps families to grow closer. My family has seen great landmarks such as The Alamo, The St. Louis Arch and Pike's Peak. We've hiked through mountains, lounged on beaches and slid down sand dunes.
Our family trips have not only allowed my kids to see different things, but they have also given them new perspectives on life. I love to see the excitement in their eyes every time they discover something new about another culture or about themselves.
When I was my kids' age, I longed to have similar experiences, but my single mother couldn't afford trips that were more extravagant than our annual journey from Houston, TX to Big Cane, LA (you won't find it on a map). Therefore, I resorted to using books, comics and encyclopedias (yes, I read an entire set from A to Z) as my tour guides. All of this reading piqued my curiosity about the world around me. I became fascinated with far-away places and fantasized about visiting them one day.
I also use my travels to teach my kids valuable lessons in geography, history, culture and current events. Before I leave, I always mark my destination on our globe, and the kids and I research the location on the web. I think my eight-year-old son has already inherited my wanderlust. He talks non-stop about all of the places he wants to visit and is always ready for a new adventure.
My son has become a pretty adventurous eater because of my travels. We like to share boiled crawfish, sushi, pad thai, Kansas-city style BBQ (disclaimer: Cannot compare to real Texas BBQ), pho, empanadas, kolaches, Gouda cheese and Chicago-style pizza. One of our favorite things to do when traveling is sample the local cuisine. I must admit that my other two kids aren't as adventurous as their brother when it comes to dining, but they are willing to try anything once. We like to spend time at local restaurants not only tasting new and different foods, but also recounting our adventures from the day. We relax, have fun and really enjoy each other's company.
I encourage everyone to travel and see as much of the world as you can. Technology has made the world a much smaller place, but technology will never replace the feeling of experiencing a destination for yourself.
Fred Goodall, a Together Counts blogger ambassador, contributed this post. When Fred is not out spending time with his family you can find him writing on his personal blog, Mocha Dad. Fred started his blog in 2008 to chronicle his life as a father of three children and to share the different family values he hopes to pass down to his children. Outside of blogging, Fred enjoys music, photography and surfing the web.