Five Tips for Training for Your First 5K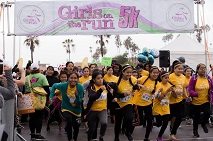 Did you know that over 7.5 million people complete 5K events each year? A 5K event consists of walking, jogging or running 3.1 miles and, as a partner of the Together Counts program for healthy, active living, we believe it is the perfect way for new runners to dip their toes into training for an event. During Girls on the Run, 3rd – 8th grade girls train for their first 5K event while developing key life skills, working as a team and giving back to their communities. Many Girls on the Run 5K events are open to the public and are perfect for first-time runners!
Are you ready to cross your first finish line? Get started on your training today with these five tips to help you work toward your goal
1. Use the buddy system
Training is more fun with a friend! Finding someone else to participate in a 5K event with you will help you stay motivated and keep you accountable throughout your training. Even better, recruit your entire family to join in the fun
2. Find a mantra
A mantra is a short phrase that someone can tell themselves to help them stay motivated. Find a mantra that motivates you and remember it when you feel like stopping! You can find ten running mantras to get you started here
3. Make healthy choices
When you're preparing for an event, it's important to fuel your body with healthy foods. Be sure to keep your body hydrated while you're training
4. Find a plan and stick to it
There are many free and low-cost 5K training plans available online. Find one that suits your current fitness level and can help you improve your distance at a pace that feels right for you.
5. Remember that forward is forward, no matter your pace
At running events, it can be easy to get caught up with what speed everyone else is going. Remember that the most important thing is doing your best and competing against yourself – not others – to improve with each run.
For a fun 5K event that is perfect for beginners, find a Girls on the Run 5K event near you!
Girls on the Run is a nationwide nonprofit organization that inspires girls to be joyful, healthy and confident through a curriculum teaches life skills through dynamic, interactive lessons that creatively integrate running. Girls sharpen their independent thinking skills, celebrate their unique strengths and realize their power to make a difference in the world. The program culminates with the girls being physically and emotionally prepared to complete a celebratory 5k run—an experience that unleashes their confidence and establishes a lifetime appreciation of health and fitness.
For more fun ways to get up and moving, check out these other articles from Together Counts!