Giving Kids Safe Spaces To Play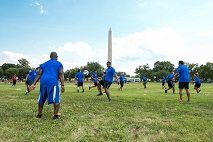 Working with Together CountsTM, the U.S. Soccer Foundation is excited to promote healthy and active lifestyles for youth and the importance of having a safe place to play. Having safe places to play not only creates an environment where kids can be active, but also brings families together to promote a healthy and active lifestyle.
The U.S. Soccer Foundation's Safe Places to Play program gives kids safe and accessible areas to play by funding field-building and enhancement projects in under-served communities.
Safe Places to Play transforms abandoned courts, empty schoolyards, vacant lots and the like into soccer fields for kids. The Foundation awards grants three times a year to communities to help cover the costs of lighting, irrigation, construction, surfacing and enhancement.
One type of safe playing space we create is the mini-pitch. Mini-pitches are small, customized areas that are perfectly suited for organized soccer programs and pick-up games. They provide a quality playing surface for kids, and transform the look and feel of neighborhoods.
Over the last three years, the U.S. Soccer Foundation has built more than 100 mini-pitches across the country. These mini-pitches are built in densely populated areas and  provide more than 8,000 youth and adults access to a public park space, on average.
Our President & CEO Ed Foster-Simeon recently answered the question of "What is a Park?" and emphasized that a park is much more than the physical structure. "The bottom line is that a park isn't defined by what it looks like," said Ed Foster-Simeon. "Each park serves the same purpose: a public space that encourages physical activity, improves the look and feel of the neighborhood and unites the community."
Having a safe place to play creates a hub for local community engagement. Organizations can utilize the space to hold community events, such as farmer's markets, health screenings or a local soccer game.
Interested in learning how to get a safe place to play in your community? Visit this link to learn more, and don't forget to check out the Together Counts website for more helpful resources!
The U.S. Soccer Foundation's programs are the national model for sports-based youth development in under-served communities. Since its founding in 1994, the Foundation has established programs proven to help children embrace an active and healthy lifestyle while nurturing their personal growth beyond sports. Its cost-effective, high-impact initiatives offer safe environments where kids and communities thrive. Headquartered in Washington, D.C., the U.S. Soccer Foundation is a 501(c)(3) organization. For more information, visit our website or follow us on Twitter at @ussoccerfndn and Facebook.