Introducing the 2015 Together Counts Partner Blogger Series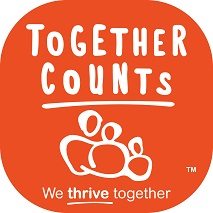 Together Counts is teaming up with a few new and current members of the Healthy Weight Commitment Foundation to highlight some of the exciting energy balance efforts happening in 2015 here on the blog.
Stay tuned throughout the year for updates on healthful activities for kids, tips for eating better and key holidays and events you can participate in throughout the year. Learn more about the members we'll be spotlighting below and share your thoughts in the comments!
Action for Healthy Kids: Action for Healthy Kids addresses childhood undernourishment, obesity and prevention by working with schools to help kids learn to eat right and be active every day. This focus is because of the unique position and influence that schools have on children and their families, in addition to their responsibility to provide nutrition and physical education and their many opportunities to promote healthy eating and active living. Action for Healthy Kids partners with families, community members, professionals and businesses to support schools in this effort.
Common Threads: Founded by Chef, Art Smith and artist, Jesus Salgueiro in 2003, Common Threads grew out of the belief that family and food have the power to nurture and strengthen us, to connect us to culture and community and to teach and excite us about our world. By sharing the delight of cooking and delicious recipes, in conjunction with practical life-skills in health and nutrition, Common Threads can change lives.
Healthy Dining Finder: Healthy Dining Finder was born out of a passion to find menu choices with vibrant fruits and vegetables, hearty whole grains and flavorful lean proteins at every restaurant. Healthy Dining Finder believes that now is the time for every American to rediscover how to truly treat themselves well with all the best food, finding the health and vitality that comes from enjoying tantalizing culinary creations found at Healthy Dining restaurants nationwide.
IFIC: The International Food Information Council's mission is to effectively communicate science-based information about health, food safety and nutrition for the public good. The Foundation is focused on providing solutions that can help families lead healthy and active lives, including healthful eating and active living websites for children Kidnetic.com and their families, as well as for health professionals and educators.
Memphis Grizzlies: GrizzFIT aims to promote a healthy lifestyle by encouraging people in the Mid-South to make healthy food choices and exercise regularly. This unique program has two main points of emphasis: To encourage high school students to eat a healthy breakfast and to encourage families to be active together to promote physical fitness.
National PTA: As the largest volunteer child advocacy association in the nation, Parent Teacher Association (PTA) reminds our country of its obligations to children and provides parents and families with a powerful voice to speak on behalf of every child while providing the best tools for parents to help their children be successful students.
PTA does not act alone. Working in cooperation with many national education, health, safety, and child advocacy groups and federal agencies, National PTA collaborates on projects that benefit children and that bring valuable resources to its members.
The OrganWise Guys: The OrganWise Guys Inc. (OWG Inc) produces The OrganWise Guys Comprehensive School Program (OWG CSP), which is a multi-media, cross-curricular program that uses fun characters based on the organs of the body (i.e., Hardy Heart; Peri Stolic, the large intestine; Sir Rebrum, the brain, etc.), coupled with high energy activities, to teach children how to make positive health, nutrition, and physical activity choices.
The PGA of America: The PGA of America is the world's largest working sports organization, comprised of 28,000 men and women golf Professionals who are the recognized experts in growing, teaching and managing the game of golf, while serving millions of people throughout its 41 PGA Sections nationwide. Since its founding in 1916, The PGA of America has enhanced its leadership position by growing the game of golf through its premier spectator events, world-class education and training programs, significant philanthropic outreach initiatives, and award-winning golf promotions.
Special Olympics: The mission of Special Olympics is to provide year-round sports training and athletic competition in a variety of Olympic-type sports for children and adults with intellectual disabilities, giving them continuing opportunities to develop physical fitness, demonstrate courage, experience joy and participate in a sharing of gifts, skills and friendship with their families, other Special Olympics athletes and the community.
US Soccer Foundation: The mission of the U.S. Soccer Foundation is to enhance, assist and grow the sport of soccer in the United States, with a special emphasis on underserved communities. We view soccer as a powerful vehicle for social change. By supporting the development of places to play, places to grow and places to learn, our goal is to ensure that children in underserved communities have easy and affordable access to quality soccer programs that support their physical and personal development.