Introducing the 2017 Together Counts Partner Blogger Series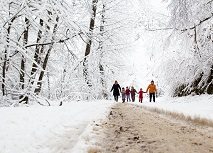 As the calendar flips to 2017, we are thrilled to announce the continuation of our partner blogger series which focuses on fun and simple ways for families to stay healthy and active throughout the year! In 2016, we teamed up with nine partner ambassadors to produce 30 unique blog entries from across the country. This year, we are bumping it up to 10 wonderful partners.
Featuring eight returning bloggers and a couple of newcomers, we have some fun content planned for you that we hope you can take and implement into your own life. Stay tuned throughout the year for updates on active and healthy living, tips for better eating, holiday events you can participate in and much more! Learn more about the members we'll be spotlighting below and share your thoughts in the comments.
Common Threads: Founded by Chef Art Smith, artist Jesus Salgueiro and Linda Novick O'Keefe in 2003, Common Threads educates children on the importance of nutrition and physical wellbeing, empowering them to be change agents in their families, schools and communities across the country. By providing children with a toolkit of knowledge and skills, Common Threads' programs help prevent childhood obesity and reverse the trend of generations of non-cookers, getting America's kids cooking for life!
Girls on the Run: Girls on the Run is a nationwide nonprofit organization that inspires girls to be joyful, healthy and confident through a curriculum teaches life skills through dynamic, interactive lessons that creatively integrate running. Girls sharpen their independent thinking skills, celebrate their unique strengths and realize their power to make a difference in the world. The program culminates with the girls being physically and emotionally prepared to complete a celebratory 5k run—an experience that unleashes their confidence and establishes a lifetime appreciation of health and fitness.
Healthy Dining Finder: Healthy Dining Finder was born out of a passion to find menu choices with vibrant fruits and vegetables, hearty whole grains and flavorful lean proteins at every restaurant. Healthy Dining Finder believes that now is the time for every American to rediscover how to truly treat themselves well with all the best food, finding the health and vitality that comes from enjoying tantalizing culinary creations found at Healthy Dining restaurants nationwide.
National 4-H Council: 4-H, the nation's largest youth development organization, grows confident young people who are empowered for life today and prepared for career tomorrow. 4-H programs empower nearly six million young people across the U.S. through experiences that develop critical life skills. 4-H is the youth development program of our nation's Cooperative Extension System and USDA, and serves every county and parish in the U.S. through a network of 110 public universities and more than 3000 local Extension offices. Globally, 4-H collaborates with independent programs to empower one million youth in 50 countries. The research-backed 4-H experience grows young people who are four times more likely to contribute to their communities; two times more likely to make healthier choices; two times more likely to be civically active; and two times more likely to participate in STEM programs. Learn more about 4-H at www.4-H.org.
National FFA: The National FFA Organization is a national youth organization of 610,240 student members as part of 7,665 local FFA chapters in all 50 states, Puerto Rico and the Virgin Islands. The FFA mission is to make a positive difference in the lives of students by developing their potential for premier leadership, personal growth and career success through agricultural education. The National FFA Organization operates under a federal charter granted by the 81st United States Congress and it is an integral part of public instruction in agriculture. The U.S. Department of Education provides leadership and helps set direction for FFA as a service to state and local agricultural education programs. For more, visit the National FFA Organization online at FFA.org, on Facebook, Twitter and the official National FFA Organization blog.
National Frozen & Refrigerated Foods Association: NFRA is a non-profit trade association representing all segments of the frozen and refrigerated foods industry. Headquartered in Harrisburg, PA, NFRA is the sponsor of March National Frozen Food Month, June Dairy Month, June/July Ice Cream & Novelties promotion and October Cool Food for Kids educational outreach program. NFRA also provides consumer information such as food safety guidelines, meal preparation tips, recipes and sweepstakes opportunities on their Easy Home Meals website and social properties.
The OrganWise Guys: The OrganWise Guys Inc. (OWG Inc) produces The OrganWise Guys Comprehensive School Program (OWG CSP), which is a multi-media, cross-curricular program that uses fun characters based on the organs of the body (i.e., Hardy Heart; Peri Stolic, the large intestine; Sir Rebrum, the brain, etc.), coupled with high energy activities, to teach children how to make positive health, nutrition, and physical activity choices.
SPARK: SPARK is a research-based program that provides award-winning, evidence-based programs for Physical Education (K-12), Classroom Physical Activity & Recess, After School, Early Childhood, Nutrition and Health. Since 1989, SPARK has provided curriculum, training, and consultation to over 100,000 teachers and youth leaders worldwide.
Special Olympics: The mission of Special Olympics International is to provide year-round sports training and athletic competition in a variety of Olympic-type sports for children and adults with intellectual disabilities, giving them continuing opportunities to develop physical fitness, demonstrate courage, experience joy and participate in a sharing of gifts, skills and friendship with their families, other Special Olympics athletes and the community.
U.S. Soccer Foundation: The mission of the U.S. Soccer Foundation is to enhance, assist and grow the sport of soccer in the United States, with a special emphasis on underserved communities. We view soccer as a powerful vehicle for social change. By supporting the development of places to play, places to grow and places to learn, our goal is to ensure that children in underserved communities have easy and affordable access to quality soccer programs that support their physical and personal development