Mom-Approved After School Snacks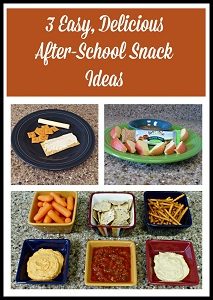 I don't know about your kids, but every day mine run into the house after school and act as if they haven't eaten for 24 hours instead of the actual four hours since lunchtime. They're always so hungry! And, since I don't believe in doing homework on an empty stomach, the first thing I do is provide them with a satisfying after school snack. As a Together Counts™ Ambassador I also believe that we are what we eat and I like to make sure our snacks are a healthy balance of  "fun" and "good for you" – something the kids and I can both be excited about eating.  Here are three of our favorite after school snack choices that give them enough energy to get through homework and some active play when it's done.
A Sweet Fall Treat
This caramel apple snack is a big hit with my kids (and me – I'm not too old to indulge)! Simply slice an apple and pour a smidge of caramel dipping sauce for a sweet treat. I add a healthy chewy baked caramel apple bar as well. Since our family has food allergies, I look for the kinds of bars that are free of the eight major allergens, but there are plenty of good brands and flavors of this type of bar out there – and my kiddos love them!
A Crunch Buffet
This is a really fun after-school snack that doubles as a party appetizer (not kidding)! My kids love salsa and hummus and something crunchy to dip in it. Whether it's baby carrots, pretzels, or crackers – it's always a hit. This is a pretty big snack for after school, so I don't usually serve all of this at one time, but there are so many options to mix and match, this snack can be served multiple ways and never gets old.
Cheese That Will Please
Who doesn't love cheese? I am happy to say I've instilled my love of cheese in my kiddos. Mine like a little crunch with their cheese, so in addition to the goodness of a mozzarella cheese stick, I'll add a few cheese crackers or some cracklebread with a layer of cream cheese to their afternoon snack. Crunchy, cheesy, protein-y, for the win!
Hungry yet? I'm already looking forward to the kids coming home from school myself! What do your kiddos like to snack on for an after-school snack?
Jenny Rapson is a writer and social media project manager who lives in southwest Ohio with her husband of thirteen years and their three great kiddos. When she's not cutting up grapes for her toddler or serving as referee for her school-agers, she co-authors the funniest parenting and lifestyle blog ever (written by first cousins, that is) over at Mommin' It Up with her cousin Emily Berry.