Personalize Your Family's Eating for Better Health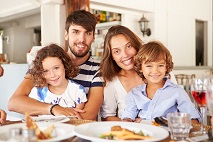 It may be time to throw out the one-size-fits-all box when it comes to health and wellness for you and your family. As research and technology progress, the idea of personalization for optimal health has gained momentum. Wearables provide more and more data on our individual health habits. Terms like "personalized lifestyle medicine" are becoming more and more mainstream, and unique recommendations for diet and lifestyle are becoming the norm. Personalization is changing the face of health as we know it.
As a Together Counts™ ambassador, we promote making the best choices at restaurants for you and your family's health. It's now even easier to find these dietitian-recommended Healthy Dining and Kids LiveWell menu choices using the new personalized search feature on HealthyDiningFinder.com.
When it comes to eating especially, it's hard to resist a plan and choices hand-picked just for us. This draw is more than just feeling understood, it's the feeling that these hand-picked choices are about to make our lives easier. These unique recommendations are often viewed as the best approach for successfully achieving a healthy lifestyle for several reasons including:
Personal and Family Health Goals
Goals and motivations differ from person to person, family to family. Are you or a family member managing blood sugar for diabetes or sodium for high blood pressure? Are you motivated to increase your fruit and vegetable consumption for specific health concerns or simply increasing the overall quality of your family's meals? Are you simply trying to add more healthful foods to your children's diets? Different goals often require different food choices, making diet personalization a must.
Our Lifestyle
Do you or your family frequent independent restaurants or, as a busy parent, rely on fast and budget-friendly meals for the family at popular chains. Meal recommendations for one group may not make sense for another.
Tailoring your meals to your family's life, goals and tastes removes barriers to healthy eating and a healthy lifestyle. It's about making healthy eating an easy fit for your unique family. Isn't it time to embrace your family's uniqueness and choose a more personalized approach to health?
Working with a registered dietitian is a great start. These food experts are passionate about designing a personalized eating plan with your family's goals, lifestyle and tastes in mind.
When eating out, don't forget to search for the best Healthy Dining and Kids LiveWell menu choices for your family's goals using the new personalized search feature. This enhanced search allows you to set a variety of criteria to deliver just the meals you want.
Healthy Dining's signature web and mobile site, HealthyDiningFinder.com, is the only search engine of its kind providing personalized dining out recommendations validated by Healthy Dining's team of registered dietitians. HealthyDiningFinder.com features more than 4,000 menu choices from participating restaurants nationwide enabling diet- and nutrition- conscious consumers to find nutrition information and Healthy Dining options emphasizing lean protein, fruits, vegetables, whole grains and unsaturated fats. HealthyDiningFinder.com also features a Kids LiveWell platform, a program developed by the National Restaurant Association, to help parents find restaurants offering healthier meals for children. With 25 years of expertise in the restaurant industry and hundreds of thousands of restaurant recipes analyzed for nutrient content, Healthy Dining is the most experienced restaurant nutrition services provider in the world.
For more healthy eating options, take a look at these other articles from Together Counts!