Staying Active during the Winter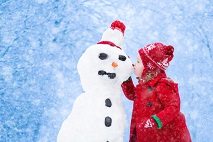 By Brian Godfrey, Physical Education Teacher, Richmond Elementary School, Richmond, VT
Living in Vermont where it's cold and snowy for up to six months of the year, it's important to find ways to be healthy and active during the winter. As a physical education teacher, husband and father of three, I've found that skiing, snowboarding, snowshoeing, ice skating, sledding or even going for brisk winter walk are great ways for my family and students to be physically active together – one of the primary goals for the Together Counts™ program for active, healthy living.
My aim is to inspire and empower my children and students to be healthy and active throughout their lifetime. Too often it seems that kids today spend more time using electronic devices than being physically active. One of the best ways to remove the temptations of electronics is to get your kids outside! Encouraging kids to go outside during the summer is one thing, but what options do you have when the snow is flying and the temperature has dropped below zero?
One of the easiest and most fun things to do during the winter is to simply go outside and play. Build a snowman, make a snow angel or go sledding. It's fun and best of all it's free. Being active during the winter can provide some financial barriers, but if you do some research you can usually find some good deals. Look online or in local ads for discounted equipment. As a teacher I've written grants and received free snowshoes, skis, skates and snowboards for my students. Also for any of you teachers out there, try sending a note home asking for equipment donations. I've been able to get ice skates, sleds and other winter gear by doing this.
Being healthy and active during the winter can also provide fun family/community DIY projects. Before the snow falls, find a large flat area, lay boards and plastic down, and BAM you have a hockey rink. Be resourceful with outdoor space in your community by grooming cross-country ski trails and snowshoeing trails or holding a winter carnival. Chances are there are many other people like you in your community who share your desire for winter movement opportunities and would join you in your efforts.
Winter enthusiasts all around the world enjoy riding down the slopes skiing or snowboarding. A few years ago I created the Snow Motion Program, which provides free skiing and snowboarding for students during the school day. Teaching kids to ski and snowboard is like magic on the slopes. If you would like to share in the magic by teaching your kids or students to ski or snowboard, I've attached a link to a book I wrote: "A Volunteer's Guide: to Teaching Skiing and Snowboarding."
Make sure to take the time to be physically active this winter. Doing so will empower your kids to be healthy and active for a lifetime!
Brian Godfrey is the current Eastern District Elementary School Physical Education Teacher of the Year for SHAPE America – Society of Health and Physical Educators, the nation's largest membership organization of health and physical education professionals.
For more fun ideas for your family to be active and healthy this winter, check out these other articles from Together Counts!