The Benefits of a Daily Family Walk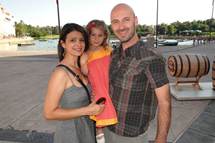 I complain–a lot–about the fact that my family of three can never manage to eat a picture-perfect family meal together. Mornings are too chaotic and we honestly prefer sleeping in 15 more minutes rather than using that time for a breakfast at the table. Then off we frantically go to face our days: my husband gets in his car for his hour-long commute in L.A. traffic, and I go drop off my girl to Montessori preschool so she can learn her ABCs and I can get my work done.
By the time I pick up my girl from aftercare and bring her home, all she wants to do is have dinner. Dad doesn´t ever make it home before 7pm, and by then it´s too late for all of us to sit down at the table together.
It finally dawned on me that instead of complaining about not being the perfect little family and missing out on all the amazing benefits of sitting down together at a table (even when my four year old never really sits still anywhere), I could be proactive about it, and came up with our now daily family walks.
The point of a family dinner is really just to get every member of a family together in one place to share your day, your thoughts, unwind and eat a proper nutritious meal. Since our family consists only of three people, plus a small dog, I figured we pretty much spend most of our personal time together. Plus, the same benefits of a family meal can be had with a nice evening walk around the neighborhood. Even better, if you can actually manage the family meal, why not extend it into a family walk and double the benefits?
And what are those benefits? In our case they have been:
Quality and uninterrupted time as a family: Being outdoors and breathing fresh air promotes a sense of calmness that can lead to bonding time and better conversations.
Health benefits: A brisk 15-30 min exercise is a great way to include cardiovascular exercise and calories out in your daily routine.
Leading by example: We´re setting a great example to our girl by modeling good healthy exercise habits that can reap future benefits in her attitude towards exercise.
Getting to know your neighbors: We´ve actually finally gotten to know some of our neighbors now that they expect to see us walking by right around the same time they´re out watering the plants or the lawn. The sense of community makes us feel safer and connected.
Our evening walks are now something we look forward to every day and hardly ever miss. We live in Los Angeles, so we can be pretty much guaranteed that weather will be on our side most of the time, so that´s not even an excuse. The dog gets a good walk, my girl gets to hone her tricycle skills, and my husband and I get to chat and even hold hands.
Do you have a daily family-time routine? How has it benefited the health of your family?
Ana L. Flores is the co-founder of SpanglishBaby.com, a community and resource for parents raising bilingual and bicultural children.