The Reluctant Hiker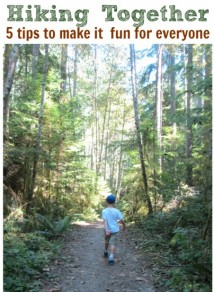 Hiking as a family sounds like such a peaceful way to spend the day, but the reality isn't as simple. With small children you can't just grab a water bottle and hit the trail. You need to prepare so you are ready not just for scraped knees, but also for your kids' attitudes going from "gung ho" to "get me home now" at the most inopportune times. Here are five kid tested tips to make hiking with young ones fun for everyone.
1. Choose a trail everyone can handle. If your child is used to walking long distances go for a challenge, but if the car seat and stroller are the usual, the last thing you want to do is be stuck carrying a child three miles down a bumpy path. Ask your local tourist information office for local hikes and start small.
2. Let your child choose where to go, go at their pace and stop to explore. Give or make them a map and let them feel like they have some control and makes the hike feel like an adventure. Just make sure that the area is safe to allow this.
3. Pack snacks and drinks. We love frozen yogurt tubes – even in the heat of the summer we pop them in the pack and by the time we stop for a break it's thawed but still nice and cold. Don't rush the breaks, kids need them. Together Counts also has a great list of snacks perfectly portable for your outdoor adventure.
4. Give them something to do, look for or take pictures with. My son loves to be the official photographer and is always on the lookout for something really amazing. You can make a simple scavenger hunt by writing down 5-10 things on a post it note. Stick it on the water bottle and they will be so busy looking for things that they won't ask, "Are we there yet?"
5. Make them want to do it again. Hike to a something awesome like a beach or playground. Having something exciting to hike to is a great motivator. Take a treat with you as a surprise or turn the pictures they took into a book after you get home.
Making exercise as a family fun is key to getting the whole family out and moving together. No matter how many times we tell our kids that hiking is fun, it won't sink in until we make it fun. Exercising as a family teaches our children about fitness, but more than that, it deepens the connections between family members so all our lessons will be heard whether we give them on the hiking trail or around the dinner table.
How do you get active with your family in the fall? Share in the comments below!
Allison McDonald is the mom and former preschool teacher behind No Time For Flash Cards, a blog filled with learning and play for young kids. When she isn't blogging about crafts and learning you can find her running with friends or exploring the forests around her home with her two kids. Allison lives outside of Seattle with her daughter, son and husband.
Before you head for the trail, check out our resources: