Top Food Trends for 2016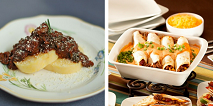 As we acquaint ourselves with the new year, everyone is gearing up for the hottest food trends of 2016. Last year was all about cauliflower, fermented foods, and ancient grains, and while those foods are still popular, there are some new kids on the block vying for popularity. As a partner of the Together Counts™ program for active, healthy living, we at the Canned Food Alliance (CFA) enlisted Jessica Fishman Levinson, MS, RDN, CDN from the blog, Nutritioulicious, to equip you with some of the hottest trends coming down the pike that can easily be incorporated at home using your favorite canned goods.
For recipes and more information on the hottest trends, new research and the nutritional benefits of canned food, visit Mealtime.org. While there, sign up to receive Canned Food News, the CFA's monthly e-newsletter.
Jessica Fishman Levinson, MS, RDN, CDN is a registered dietitian nutritionist and the founder of Nutritioulicious, New York-based nutrition communications and consulting business with a focus on culinary nutrition. She has extensive experience as a recipe developer, writer, editor, and speaker, maintains the popular Nutritioulicious blog, and is the Culinary Corner columnist for Today's Dietitian Magazine. Jessica is an active member of the Academy of Nutrition and Dietetics (AND) and various Dietetic Practice Groups of the AND, including Nutrition Entrepreneurs, Food and Culinary Professionals, and Dietitians in Business and Communications. Follow Jessica on Twitter, Facebook, and Pinterest.
For more healthy, active ideas, take a look at these other articles from Together Counts!