What's for "Brinner"? Three easy "Breakfast-for-Dinner" Ideas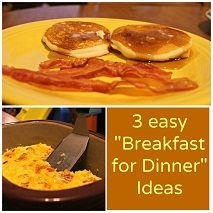 'Tis the season to be BUSY, and sometimes a hectic hurry-scurry holiday season weeknight deserves a special (and easy) dinner that's a treat for the whole family. As a Together CountsTM ambassador, I love routines that gather my entire family around the table. Even better, I almost always have the ingredients for a breakfast meal on hand. Here are some of my favorite ways to do brinner.
Simply Scrambled: What's easier than scrambled eggs? I always have eggs in the fridge and I typically throw in a few fun ingredients like cheese and diced ham to add some variety. Serve up a plate of scrambled eggs with bananas, grapes, apple and orange slices with some yogurt and you've got a fun, tasty brinner that's on the lighter side.
Pancake Pleaser: Nothing makes my kids run to the table like pancakes! Serve 'em with bacon, sausage, fruit, or whatever else you have on hand (as long as there's syrup!) and your family will be full and happy. The great thing about pancakes is how easy they are to dress up with special ingredients like blueberries or chocolate chips, or even flavored syrups. This is a brinner that's a super-special treat as well as a delicious dinner – and you never have to make it the same way twice!
Kickin' Casserole: I love, love, love a breakfast casserole because it can also be a one-dish dinner. Find a good recipe with lots of eggs, your breakfast meat of choice, cheese and of course some potatoes and veggies and make it yours with your favorite toppings and seasonings. This is the kind of brinner that is ultra-easy (check Pinterest for crock-pot breakfast casseroles if you really want to make it simple) and yet is still a filling meal that combines several food groups. There are so many delicious breakfast possibilities with a casserole. You can make your family's favorite over and over or try a new one with each brinner event.
We typically have brinner a little more often in our house during the busy holiday season and as a cozy treat when it's cold outside. What's your family's favorite way to eat brinner? Do you save it for a special occasion or is it a routine meal in your household? Let me know in the comments!
For more meal time inspiration, check out these Together Counts' resources:
Jenny Rapson is a writer and social media project manager who lives in southwest Ohio with her husband of thirteen years and their three great kiddos. When she's not cutting up grapes for her toddler or serving as referee for her school-agers, she co-authors the funniest parenting and lifestyle blog ever (written by first cousins, that is) over at Mommin' It Up with her cousin Emily Berry.