Wintertime Activities: Go Ice Skating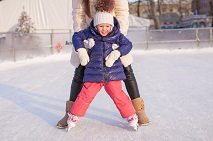 I admit it, I am not in love with winter. I catch a chill in November that does not leave until the middle of May. Despite this, I do try to make the best of the cold weather by lacing up our family's skates and stepping out on the ice. As a partner of the Together Counts™ program for active, healthy living, I encourage physical activities year-round, even in cold temperatures. Here are a few options for ice skating that are great for the whole family!
Skating Arenas
Skating arenas are a great place to start. They typically offer very affordable open skate sessions, with skate rental if you are not yet ready to buy skates of your own. For beginners, they may have skating trainers available so time at the rink does not have to be a back breaker for parents. And, a bonus for me – climate control! It is still chilly in there, but you can definitely get away with a light jacket and jeans.
Outdoor Rink
There is nothing quite like a sunny, winter day at the local skating rink. Unfortunately, these days can be few and far between and don't always fit with an otherwise busy family schedule. If the planets do align, I encourage you to get out to the rink. It is free! And, it is great fun. Many have warming houses if it gets a bit too cold outside. However, you should count on having to bring your own skates and other equipment. You might want to bring a small plastic chair for beginners to use as a trainer.
My Two Cents
Whether you choose the comforts of the indoor arena or the fresh air of the outdoor rink here are a few helpful hints that can make the whole experience more enjoyable.
Safety First – I should not have to say this but I will, NEVER go skating on a pond, lake or other body of water that does not have at least 4 inches of sold ice. If you are in doubt, definitely do not step out on the ice. Also, helmets are a must for little ones who are just getting started. You might also want to consider elbow and knee pads to keep the bruises at bay.
Dress Appropriately – whether your child is a beginner or the next Michele Kwan, she will enjoy skating much more if she isn't cold. For beginners, I highly recommend snow pants. They may make it a little more difficult to move, but with all the time they are likely to spend sitting on the ice, they are a must to keep little bottoms warm and dry.
Manage Expectations – skating is a difficult skill to learn for most children. They are likely to fall quite a bit before they get the hang of it. Help your child combat frustration by creating small goals they can accomplish to help them see their progress. For example, focus on skating 3 or more feet without falling down rather than skating around the entire rink without falling.
Go Often – I found that my kids progressed much faster if we skated one or more times per week for a couple weeks then when we skated only once per month for a few months – even if we had the same number of total outings. Maybe this is just common sense, but from my perspective the faster you can get them skating independently, the better!
Consider Skipping the Lessons – both of my children took skating lessons and I know they are very effective for many children. However, I found they were both more motivated and seemed to catch on more quickly when we spent time at open skate watching and skating with more experienced skaters.
ActivityTree.com is the nation's largest resource for kids activities.  Each year we help millions of parents get their kids active and involved in everything from archery to zoo adventures.  Visit http://www.activitytree.com to find kid's activities near you!
For more winter ideas take a look at these other articles from Together Counts!