10 Ways to Stay Active during the Holidays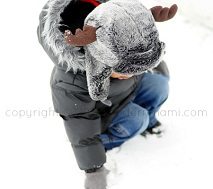 The holidays can be an extremely busy time for many families between holiday preparations, family gatherings, school functions, shopping and fun holiday activities. In our family, we also have three birthday celebrations in the month of December – both of my children were born a day apart the week before Christmas and my husband also celebrates his birthday just two days after our son's birthday. December sure is a busy month for us, but also a very fun one full of celebrations and traditions!
Since we spend December running from one errand and event to another, we need to ensure that we also make time for play and staying active as a family among the chaos of the holidays. If you have family that visits you from out of town, it can be easy to get comfortable and relaxed at home, so it's especially important to schedule in some active fun that everyone can enjoy. Consider these 10 ways your family can stay active this December for an all-around energy balanced holiday season – perfect for the Together CountsTM mission!
10 Ways to Stay Active during the Holidays
Visit a park on the weekend with the kids.
Ride bikes if there is no ice on the ground (even easier if you live in a warm climate).
Play 20 minutes of active sports video games in the home as a family.
Take a walk on your street to see the holiday decorations and lights.
Play in the snow with the kids (if you live in an area with snow).
Sign up for a community service project cleaning up a local park.
Pick a parking spot furthest from the mall or store while out shopping to get some extra walking.
Use the stairs as much as possible and avoid the elevators or escalators if you can.
Play a fun family game: for every Santa on TV you see, do 2 jumping jacks and keep track of who does the most in the family during the month!
Celebrate winter with a fun game of freeze tag after school!
I hope you have a fun and happy holiday season with your families. Be sure to take some time to stay active as you enjoy the festivities and prepare for the holidays. The holidays can be busy and hectic, but after all, it should be a time to enjoy together as a family and to maintain balance.
How do you stay active during the busy holiday season?
For more ideas for keeping your holiday season full of balance, check out these Together Counts' resources:
Melanie Edwards is the founder and editor of modernmami™.com, an award-winning lifestyle blog, and owner of Ella Media. Originally from Puerto Rico, Melanie now resides in the Tampa Bay area of sunny Florida with her husband of 10 years and two children. Connect with Melanie on Twitter via @ellamedia & @modernmami.