20 Ways to Celebrate Accomplishments with Your Family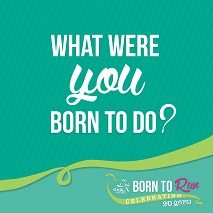 Reaching a fitness goal, trying out for a new sport and finishing a big project are
all accomplishments that we should be proud of. Although they may not call for a full-blown celebration, in working with the Together Counts™ program for healthy, active living, we believe that working hard toward goals is still worthy of recognition!
Girls on the Run, a physical activity-based positive youth development program, is celebrating a big accomplishment this year: its 20th birthday! In commemoration of 20 years of inspiring girls from coast to coast, Girls on the Run is celebrating with a year-long Born to Run campaign encouraging you to reflect upon what you were born to do. Were you born to love, celebrate, achieve, soar, dream?
Twenty years is a big accomplishment. One of Girls on the Run's core values is to express joy, optimism and gratitude through our words, thoughts and actions. Celebrating life's accomplishments, big or small, is a great way to do this, so we're sharing 20 ways to recognize members of your family or your friends for their accomplishments:
Make a special breakfast for them.
Give them a card with a kind, supportive message.
Surprise them with flowers, either store-bought or picked from the yard.
If you have photos of the accomplishment, print one off and frame it to remember the moment.
Sneak a special note into their lunchbox.
Make their favorite food for dinner.
Create a scrapbook page together that recognizes the hard work that led to their accomplishment.
Celebrate with their favorite treat.
Throw an at-home family pizza party recognizing their effort.
Have a balloon avalanche waiting for them when they wake up in the morning.
Host a family movie night where they get to pick the flick.
Acknowledge them with a Girls on the Run Energy Award.
Decorate their doorway with streamers.
Make DIY bracelets to remember the occasion. Each time you look at them you'll be reminded of the accomplishment.
Have everyone in the family write down a reason that they love them as a reminder of their support system.
Write a poem or song about what they did (the sillier, the better).
Give them a cheerful balloon bouquet.
Celebrate with confetti poppers. You can even make your own.
Have everyone in the family write them a note on a balloon that's been inflated but not tied. Give them the deflated balloon to blow up and reveal the messages.
Set aside family time to talk about goals that your family has and how you can help each other reach them.
To help Girls on the Run celebrate, share what you were born to do on social media and using the hashtag #GOTRBORNTORUN. Whether you were born to lead, born to care or born to inspire, GOTR wants to know! Find out more about how you can celebrate with Girls on the Run here.
Kenzie is the Communications Coordinator for Girls on the Run International, where she manages the Remarkable! blog and newsletter. She's excited to be sharing content that connects readers to the GOTR vision and inspires them to bring the joyfulness of the core values into their lives. In her free time, she enjoys baking, biking and running with her dog.
For more healthy and fun family ideas, take a look at these other posts from Together Counts!