5 Canned Foods to Fuel an Active Lifestyle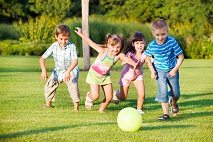 When looking for foods to fuel a healthy, active lifestyle, don't neglect the canned food aisle. As a member of the Healthy Weight Commitment Foundation's nationwide Together Counts™ program, we at the Canned Food Alliance recognize the value of food when it is economical, portable, healthy and quick to prepare. Whether your activity is going for a walk, gardening outdoors, or working out at a local gym, canned foods contain nutrients to feed your body. Requiring no refrigeration, they are ideal for eating on-the-go, too!
We consulted Lisa Dorfman, RD, aka The Running Nutritionist™ who gave us these five canned ingredients to fuel your fun!
Canned fruits, such as pineapples or pears packed in 100% juice, provide a vitamin C and potassium rich, natural sweet treat, ideal for replenishing muscle carbohydrates called glycogen after workouts. Blend in a smoothie or add to yogurt. They are also a delicious, nutritious addition to your favorite whole grain muffin recipe.
Canned beets with folate, phosphorus, iron and potassium make a sweet addition to any meal. Juice for a pre-workout nitrate blast or top your green salad with their brilliant phytonutrient-containing color.
Canned tomatoes are a great example of a canned food that can become more nutritious with canning! Canned tomatoes are loaded with lycopene, and some research has suggested lycopene may help to prevent breast and prostate cancers. Diced, crushed or whole, canned tomatoes make a great base for soups, sauces, and salsas.
Canned beans, like great northern, kidney, garbanzo, and adzuki, offer a low fat, cholesterol-free, high protein option also rich in calcium, potassium, magnesium and iron — all essential for optimal fitness and overall health. They are great folded into an easy-to-make burrito and topped with salsa, added to soups, or blended as a dip or hummus.
Canned tuna or salmon are not only great sources of essential omega 3 fats, but the protein they contribute helps enhance muscle recovery and repair. Since they do not require refrigeration, you can keep a can conveniently located in your desk drawer or gym bag as a quick nutritious snack. You can also fold into a wrap, salad or soup for an extra protein boost!
Whatever your activity of choice – walking, running, yoga, gardening, weight-training, or anything else – be sure to stock your pantry with these powerhouse canned foods to help fuel your active lifestyle.
For recipes and more information on the nutritional benefits of canned food, visit Mealtime.org. While there, you can sign-up to receive Canned Food News, our monthly e-newsletter.
Lisa Dorfman, MS, RD, CSSD, LMHC, FAND-
As The Running Nutritionist® & CEO of Food Fitness International, Inc., Lisa is leader to industry, Academia, the public & press, Lisa consults to  Olympian, Professional, Collegiate & Junior athletes in the NFL, NBA, MLB, USTA, & UST&F & was the US Sailing Olympic and Paralympics Team Nutritionist for the 2008 Beijing Olympics. A Board Certified Specialist in Sports Dietetics, Board Certified Professional Counselor, Certified Reiki Practitioner & Fellow of The Academy of Nutrition & Dietetics Lisa is the author of 8 books, including her latest, Legally Lean: Sports Nutrition Strategies for Optimal Health & Performance. Lisa has appeared on 20/20, Dateline, Good Morning America Health, FOX News, CNN, MSNBC and ESPN and has been featured in numerous publications including: USA Today, Newsweek, Wall Street Journal, New York Times, Men's Fitness, Outside & Runners World magazines. In 2014, Lisa & Miami restaurateurs launched Miami's first organic, locally sourced Farm to Table Meal Delivery Service. She is also co-founder of the award winning global mobile app called cTHRUNutrition to help consumers find and select optimal foods at groceries and restaurants worldwide. Lisa is a competitive runner and triathlete who has competed in more than 34 marathons (PR 2:52:32), Ironman and hundreds of running and multisport races. In 2004, she competed for the United States on Team USA at the World Long Distance Duathlon Championships. You can follow Lisa Twitter@Foodfitness,Instagram@LegallyLean and her website www.FoodFitness.com.
For more family meal tips check out these other articles from Together Counts!