Finding Balance for the Holidays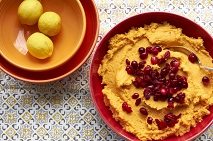 By Katie Workman
The holidays come rushing up on all of us every year, seemingly more abruptly than the year before. And while we all want to celebrate, eat, drink and be merry with all of our friends and family, there's also the awareness that we don't want to toss all common sense to the wind while doing so. We want to make healthier choices during these festive months that let us feel good about how we are celebrating, and leave us with positive memories about the holidays we have shared – something that the Together Counts™ program advocates strongly for.
And yet it just takes an extra tick or two of thinking when you are putting together a menu to keep the balance where you want it. A great place to start is your grocer's frozen and dairy aisles. From cooking and baking staples from the dairy aisle to heat-and-serve appetizers and picked-at-their peak frozen veggies, so many products from these aisles can be your holiday helping hand.
These Mashed Sweet Potatoes with Orange Juice and Cranberries get their silky creaminess from a bit of milk, some orange juice and a small amount of butter or a butter substitute. I was even able to use frozen cranberries that are always in season for these festive sweet potatoes. You could even make this side dish with frozen pomegranate!
A crisp green salad or steam-in-the-bag frozen veggies round out any meal I can think of, and helps fill the plate with color, nutrients and fiber. Roast turkey is naturally healthful; just remember to go light on the gravy. Some sparkling cranberry juice can be mixed with plain sparkling water for a drink that tastes great and looks beautiful. And, then when dessert rolls around, I'm not shy about pulling out all of the stops – and I'll take great pleasure in a few slivers of different pies made with seriously decadent ingredients. And it can be easier than ever with bake-shop quality pies and desserts from the freezer aisle.
One of the keys
to creating these happier celebrations is finding that nice balance of moderation. And, it's not just moderation in the food choices we make, but also the goal of maintaining an active lifestyle even as the weather gets colder and the weeks seem busier. It's tough to wedge in that workout, or take the extra half hour to walk somewhere instead of driving or taking the bus. I will find myself leaning towards any excuse to take the easier way out, but I try seriously hard to remember how good I will feel when it's over.
I remember that on Thanksgiving my dad always suggested a long walk, and while it was sure tempting to continue to hang out in front of the warm fire and the television, no one ever looked back with longing once they had laced on their sneakers and marched out into the woods. Now my boys coax everyone outside with a football, and even if it's a multi-generational game of amateurish touch football with a bunch of klutzes (me in particular), it makes the pumpkin pie at the end of the meal taste all the sweeter!
KATIE WORKMAN
Katie Workman is author of The Mom 100 Cookbook, Dinner Solved (August 2015) and creator of The Mom 100 blog. She's all about cooking for family and friends and is so excited to be working with the National Frozen and Refrigerated Foods Association (NFRA), a partner of the Together Counts™ nationwide program that inspires active and healthy living. Katie also sits on the board of City Harvest, New York's leading food rescue nonprofit, and for the past 24 years has been an active supporter of Share Our Strength, a hunger relief organization dedicated to eradicating childhood hunger.
For more healthy ideas for the holidays, take a look at these other reads from Together Counts!