Four Healthy Avocado Snacks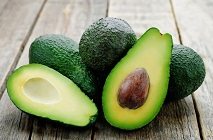 Along with kale and hazelnuts, avocados seem to be the pop-food of the decade. With avocado recipes in high demand, it can be difficult to distinguish which options are the healthiest choices. Look no further! As a partner of the Together Counts™ program for healthy, active living, we want to share four delicious avocado snack recipes  that will keep the whole family  healthy and satisfied.
Baby Avocado Toast
Just spread it and forget it! Choose your favorite medium, whether it be focaccia, baguette or whole grain toast. From there, add the sliced avocado, any extra veggies you like (we recommend diced tomato), some optional mozzarella cheese and top with a pinch of salt. This fiber-rich snack will keep you full for hours.
Avocado Hummus
It's easy to make hummus at home! If you have a food processor, add 1 can of chickpeas, 2 ripe medium avocados, 1.5 Tbsp tahini (if you don't have this, it will still taste great, but texture will be thicker than store-bought), juice from 1 large lemon, 1 clove of garlic, 3 Tbsp olive oil and salt n' pepper to taste. Purée and serve with fresh carrots, julienned bell peppers or pita chips. If you don't have a food processor, buy an original-flavored 7 oz. container of hummus, mash in 1-2 ripe avocados and serve as before. Great for parties, keeps well in the fridge for later and the kids will love it!
Avocado Egg Bowl
This recipe is Instagram-worthy. Crack an egg into a halved, pitted avocado. Keep the skin of the avocado on. Hint: you might need to scoop a little extra avocado out for the egg to fit perfectly. Bake at 425F until the white is cooked solid, about 15 min- you should be left with hot liquid egg yolk. Garnish with chives, pepper, and share! This omega-3-rich avocado bowl provides plenty of protein and is sure to hold you over until the dinner bell.
Crab and Avocado Dip
A decadent twist on classic crab dip. Use your favorite crab recipe or follow ours: 3 avocados, 1 cup crab meat, ¼ cup plain unsweetened Greek yogurt, juice from half a lime and basil and pepper to taste. Use whole grain crackers, pita chips, carrots and bell peppers for dipping. Share with the family, and keep what's left over for snack time!
Established in 1968, Camp Shane is the premiere and longest running weight loss camp for girls, boys, teenagers & young adults with locations in Arizona, California, Georgia, New York, Texas and Wisconsin. They encourage and teach their campers that leading a healthy lifestyle and losing weight can still be fun! To learn more visit www.campshane.com.
For more healthy meal ideas, check out these reads from Together Counts: