Limiting Screen Time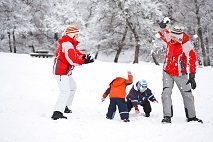 During the winter, it can be tough to peel away from the couch and feel inspired to do healthy activities. Oftentimes, weekends and time away from school and work are spent in front of the computer or the television instead of participating in other healthy, active activities. As a Together Counts™ ambassador, we realize that sometimes all you need is a little encouragement to get moving!
The American Academy of Pediatrics recommends that children ages 2-5 limit their screen time to just one hour a day of high quality programming. Research shows that children learn best from live demonstrations vs. screens and too much screen time has been linked to health problems like obesity and trouble sleeping. As parents, you will decide what works best for your family in terms of screen time. We have provided some tips that are family-friendly, fun and healthy that will help you move away from the screen!
Tip 1: Make a pledge to go outside. If it's a beautiful day, go outside! Go places like the park, or the playground together as a family. You can also create a "Family Olympics" obstacle course in your backyard for some friendly competition. These types of activities combine exercise with family bonding.
Tip 2: Learn a healthy hobby. Make a family goal to learn a new hobby or skill. Instead of watching television, spend time on new interests that will enrich your lives. Family friendly hobbies include things like cooking healthy meals, going on bike rides or having the kids help out with household chores if they are bored.
Tip 3: Create an activity basket. Fill a colorful basket with books, puzzles and toys for children that they can use instead of watching television. To get started right away, download this free coloring sheet on limiting screen time and include it in your basket!
Tip 4: Make a screen time log. Children may not be aware of how much time they are actually spending in front of screens. Pledge to keep a family screen time log for one week where each family member writes down how many hours they spend in front of the computer or TV per day. They will be surprised to see how much of their day is used on these activities!
Watch this quick video from The OrganWise Guys to learn more about limiting screen time.
The OrganWise Guys Inc. began in 1993 with a vision to inspire individuals to take charge of their health by assuming personal responsibility for their choices. By bringing the body to life via lovable organ characters, kids of all ages learn what it really means to be smart from the inside out.
For more healthy ideas to kick off your healthy, active 2017, take a look at these other articles from Together Counts!