Spring into Activity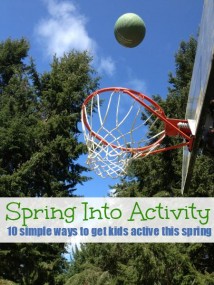 Spring has been slow coming this year for most of the country, but we need to get our kids outside and active again so the winter lethargy doesn't turn into a year round habit. What better time to get outdoors than Screen-Free Week, a week that kicks off today devoted to get families playing together, moving, dreaming and creating their own entertainment. It's the perfect chance to practice some of the basic points of the Together CountsTM program and get active together as a family.
Here are 10 easy ways to ease back into an active spring. These simple ideas are especially good for kids that have gotten way too attached to the comforts of inside winter play.
1. Plan a picnic. Arrange one in your backyard and have toys ready to play with after. Let the kids prepare some of the snacks, like apple slices, PB&J sandwiches or small pouches of granola. There's nothing better than soaking in the sun on a warm spring day.
2. Befriend some bubbles. Hit the dollar store and grab some bubbles (and any other toys you see fit). Every age loves bubbles, and running to pop them gives kids a decent workout. Make a game of it and see who can blow the most bubbles within a single breath.
3. Go on a sound safari. You can go for a hike or just sit on your lawn and listen to all the sounds that fill the air in spring. On your walk, see if the kids can identify the different sounds and animals you see on the way.
4. Spring clean your outside toys. Spring cleaning doesn't just mean organizing closets. A little dish soap, water and some sponges are all you need to make those dump trucks and push cars clean.
5. Plant a garden. You can live on a farm or in a studio apartment and still have a garden. All you need are some seeds and a little bit of space. Not only will kids love the responsibility of their own plans, you can also use this as a lesson about nutrition. My kids eat anything they plant themselves – it's like magic!
6. Make a weekend playground checklist. Make a list of all the nearby playgrounds and challenge yourselves to visit each one before summer starts. Keep in mind their favorites so you can return for another great day of fun.
7. Target practice. There are a lot of fun things to take aim at without a single toy gun. Make targets out of toilet paper rolls and toss bean bags at them. Use a hula hoop as a target and toss wet sponges.
8. Hide and Seek. When playing this outside it's best to play it in a confined space like a playground or a fenced yard. Make sure you take a trip around the space to make sure it's free of any possible dangers.
9. Get active toys. Surprise your kids with a new ball, bat or racket. The magic of a brand new basketball has taken over our house this spring. Watching my kids beg to go outside to shoot hoops absolutely tickles me!
10. One word: Hose.
Use Screen-Free Week as a time to put aside the video games, tablets and TV shows and spend more quality time together as a family. Once the sun goes down, there's plenty of other activities you can do with your little ones, whether it's playing cards or board games, reading from their favorite book or assembling a meal together. It just takes a bit of creativity and a willing family!
What spring screen-free activities does your family enjoy most? Share your ideas in the comments!
For more outside adventures and activities, visit these Together Counts resources:
Allison McDonald is the mom and former preschool teacher behind No Time For Flash Cards, a blog filled with learning and play for young kids. When she isn't blogging about crafts and learning you can find her running with friends or exploring the forests around her home with her two kids. Allison lives outside of Seattle with her daughter, son and husband.